I have been absolutely loving playing with physical Pokémon cards lately. There's just something about it that is better than online play. It's also a great way to be social. Having League night once a week has been so much fun. I get to see some of my friends, my daughter loves to go, and I've met some new people who love playing cards as well. I've mentioned it before, but League night at Post Board Gaming is every Wednesday at 6:30 PM. People are playing Standard and GLC decks to get in practice, and we bust out Pokémon Rumble at times too (which is a fun switch up).
We have four different regular attendees to League night that have Gym Leader Challenge (GLC) decks now. A few people are working on some decks, so hopefully we can get more people in the mix soon. I think we have 1 x Grass, 1 x Colorless, 1 x Psychic, 1 x Fire, and 3 x Water for current type coverage of decks among the group. I think there may be a Lightning or two that are work in progress. Will be cool to see how the different decks all play. I did post version one of my "Don't Step on the Grass" deck onto the Discord server in #deck-list-share (so join up on the discord if you haven't already)! I will toss it here as well, but this deck already has some tweaks. I will have to do an updated list soon.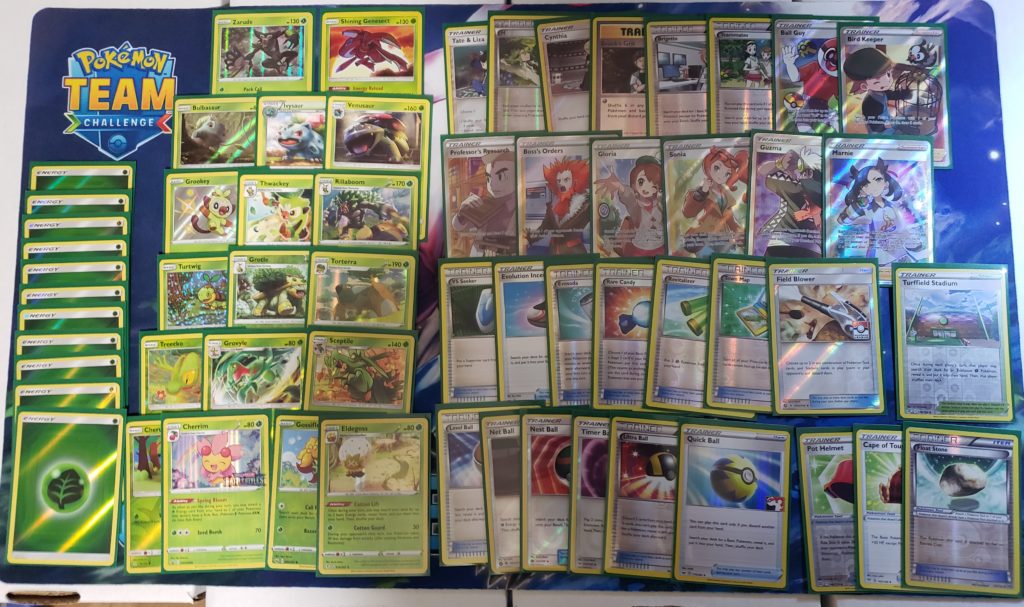 ---
This month is the release of the Scarlet & Violet block into the Pokémon TCG – so that means PRE-RELEASE TOURNAMENTS (much excited)! Between Post Board Gaming and Black Swamp Games there are 5 different pre-release events going on. I have made events for all of these in the discord, but will also list them here for some quick information:
Saturday 03/18 at 1:00 PM

Black Swamp Games – Bowling Green, OH
Cost: $30
Max of 32 players.

Sunday 03/19 at 1:00 PM

Post Board Gaming – Findlay, OH
Cost: $25 + tax
Max of 36 players.

Sunday 03/19 at 4:00 PM

Post Board Gaming – Findlay, OH
Cost: $25 + tax
Max of 36 players.

Wednesday 03/22 at 6:30 PM (during League night)

Post Board Gaming – Findlay, OH
Cost: $25 + tax
Max of 36 players.

Saturday 03/25 at 1:00 PM (during Animarathon – no event ticket needed)

Animarathon Game Room (BGSU) – Bowling Green, OH
Cost: $30
Max of 38 players.
I will not be able to make all of these events due to other stuff going on, but I am trying to hit up a lot of them. I am going to 100% hit the Wednesday one during League night. I am attempting to hit the Animarathon event. I might try to squeeze in another one of the other events too (check Discord chats for what I end up going to).
---
For some non-Pokémon card items now… On Saturday I am going to Fantasticon in Toledo, OH! First time I've been to this con, so not sure what to expect. My daughter is pumped to CosPlay (either Cat Noir from that Ladybug show, or Leonardo from TMNT), and I am thinking about going as Hunter S Thompson. I need to check my CosPlay totes to see what I end up going as exactly. Hopefully I will have some great pictures to share from this on the next post.
I think that's enough for this post, and hope to do some "more than monthly" type posting going forward. Peace!